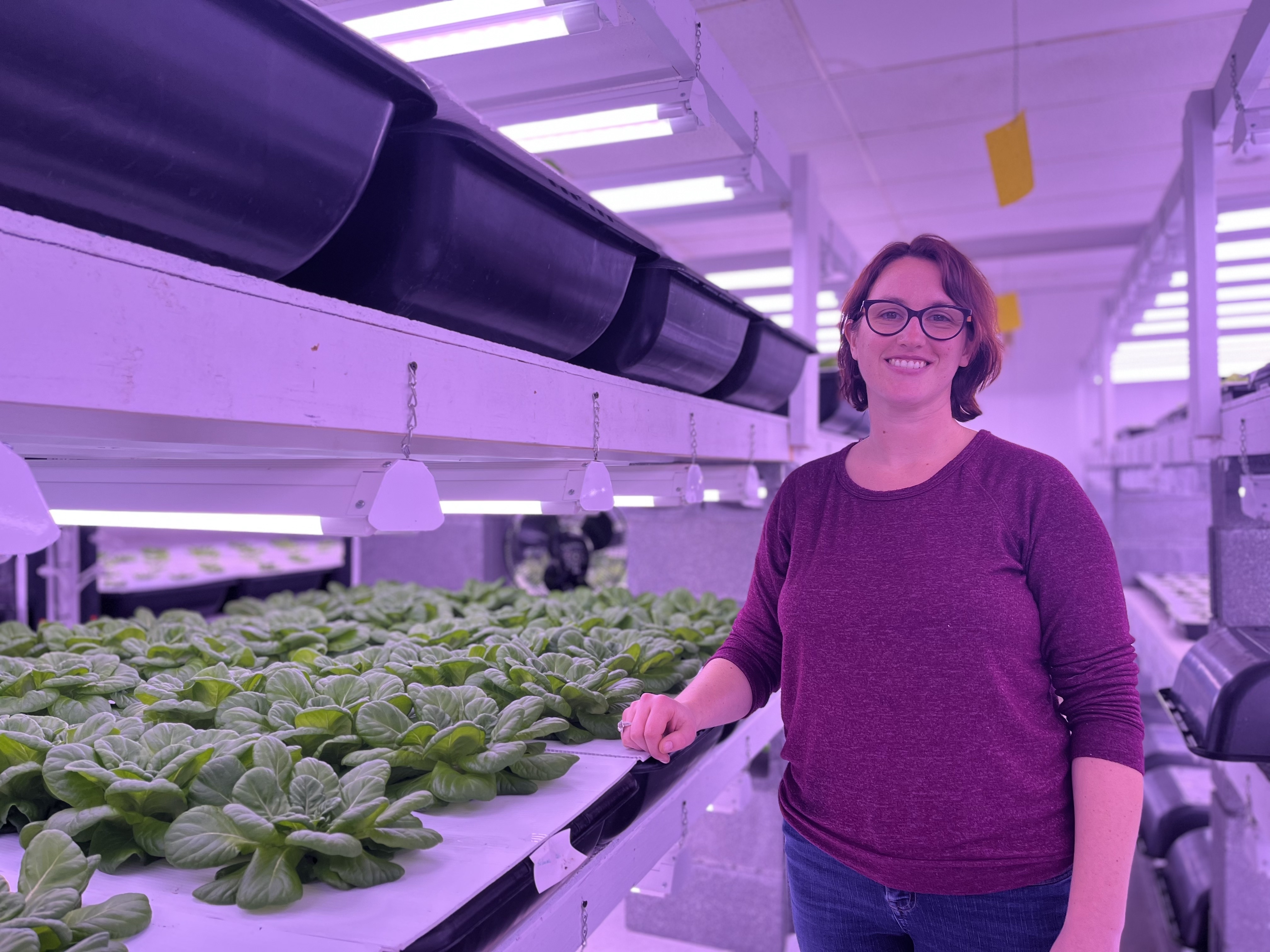 Walking up to 801 11th St., home of family-owned Lettuce Ladies, it seems impossible that this building — formerly home to the Ambridge Slovak Catholic Sokol — holds a hydroponic farm. From the outside, it's still a classic, old Pittsburgh social club, clothed in weathered red brick, the outer walls still displaying a somewhat rickety "Slovak Catholic Sokol" sign. 
But, enter the alcove, and you can hear it: the faint sound of sprinklers running and air buzzing; the sounds of a farm. 
Rebecca Mees, the full-time farmer (she runs Lettuce Ladies with her parents and four other employees), leads me through the surprisingly sprawling, humid rooms, each filled with greens. Lights differ from room to room: the first, which formerly held the social club's bar, is lit with bright, slightly-purple bulbs; the following is saturated with fluorescent reddish-purple light.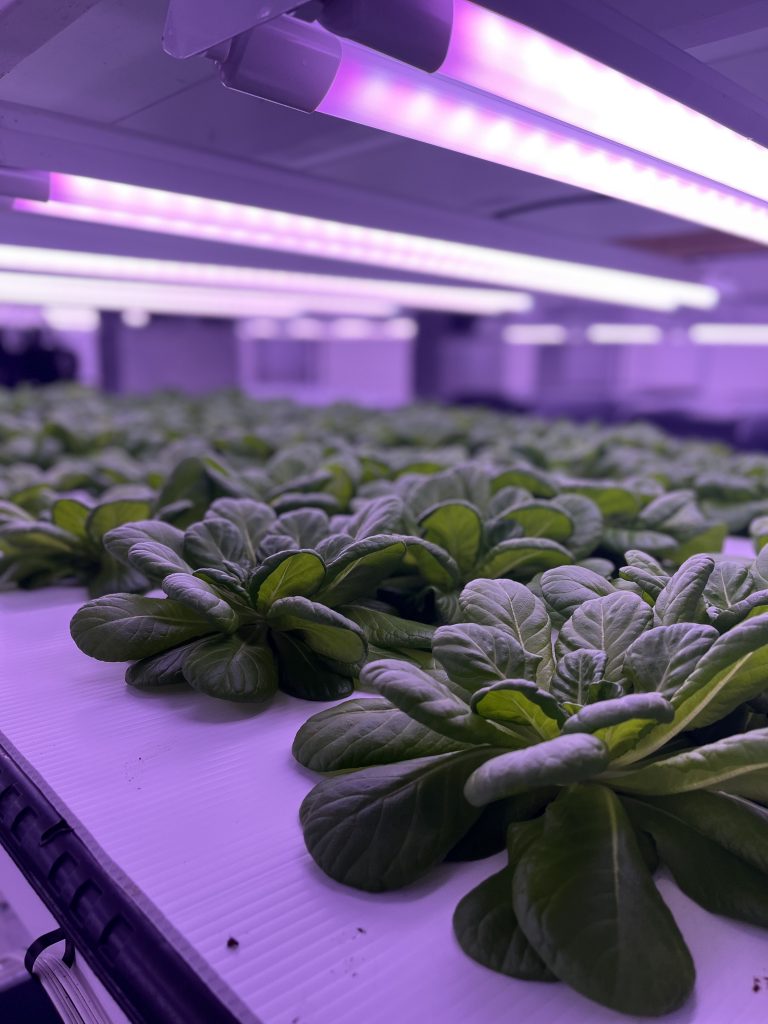 Sitting next to flats of Buttercrunch lettuce (a crowd favorite), bursting with bright green leaves and ready for picking, Rebecca tells me how Lettuce Ladies began: it all started in Hawaii.
While living on the island, Rebecca and her family found themselves frustrated with the lack of pesticide-free greens available to them. So, using a method developed at the University of Hawaii at Mānoa — one that uses a net pot to grow the greens in a small amount of dirt, rather than just water — they started growing their own. 
After moving to Pittsburgh in 2016, Rebecca began growing greens once again. But without the pleasantly humid and mild Hawaiian weather, the operation required some tweaks. 
"You don't need [lights] in Hawaii with all the sun… [and] Hawaii was all outdoors, so you don't need to pump in CO2," Rebecca explains. "It's been a lot of trial and error and figuring it out as we go."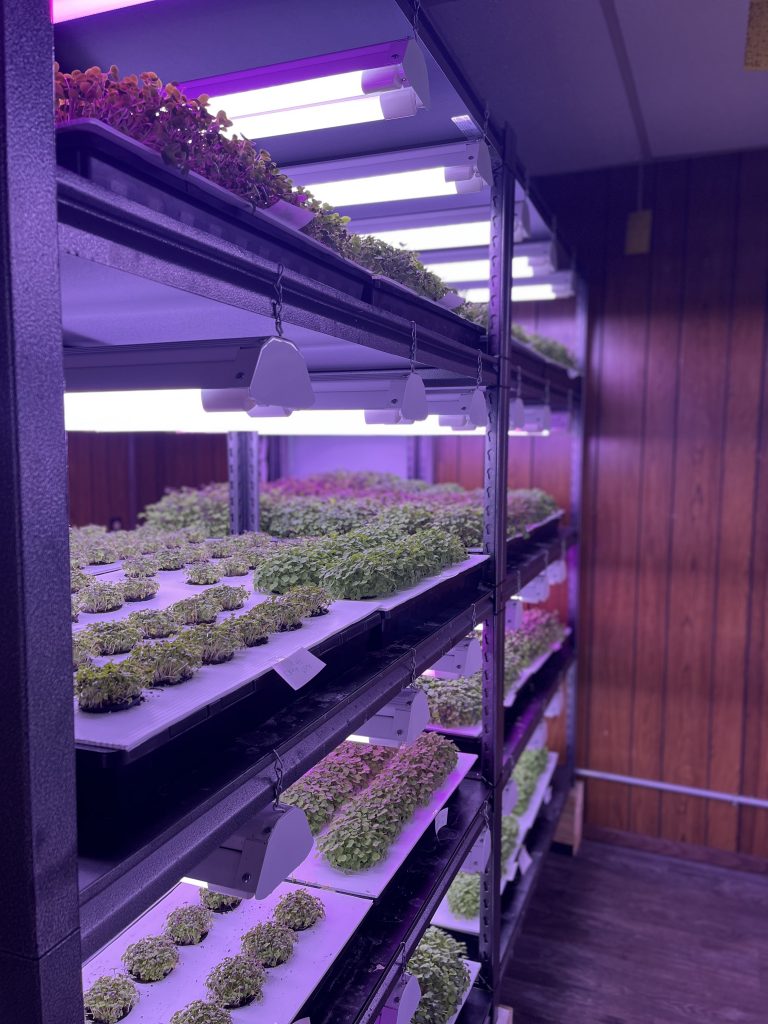 This is the reason for the different color lights. Microgreens (held on the second level, away from the leafier lettuces) grow under any light and don't need CO2 pumped in. Other varieties respond to different conditions, from darker lighting to adding CO2. 
With the growing conditions perfected, Lettuce Ladies became a smooth operation. Rebecca used the buttercrunch as an example:
It takes about six weeks for the buttercrunch heads to grow. The greens start as seeds, first planted in net pots then wet down, covered, and left to germinate and sprout for one to two days.
Then, the sprouts are uncovered and left alone to grow for six weeks, transplanted halfway through the growing period. At six weeks, the buttercrunch is picked and the pallets replanted with new seeds. 
Rebecca jokes that she "never imagined" she'd be running a greens business but is incredibly glad to be running Lettuce Ladies. They've grown to be a big operation, distributing to larger supermarkets, at farmers markets, and recently, to Harvie.
"Becoming a vendor for Harvie has allowed our business to reach new customers and has further enabled us to provide fresh greens to our community," Rebecca said. "We are extremely pleased in our experience with Harvie and look forward to providing our greens to more customers."
In the future, Rebecca and her team plan to continue expanding, moving into a new space and growing new varieties.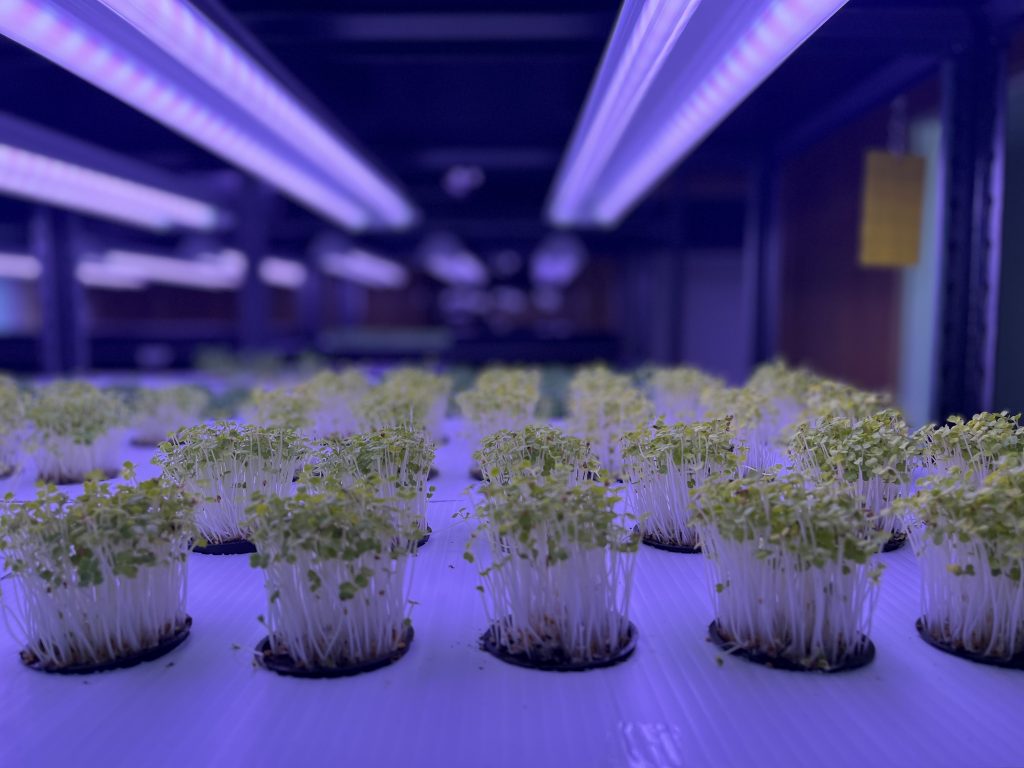 Currently, Harvie offers two varieties of the Lettuce Ladies microgreens: a spicy mix and a mild mix. According to Rebecca, who recommends you eat microgreens on everything and anything, Harvie's direct farm-to-consumer model allows members to get these greens as fresh as possible. 
Don't limit yourself to thinking of microgreens as a garnish — these little guys are full of flavor! Try them on sandwiches, as the base for salads, on top of pizzas, or as a kick of flavor on sweet, dark chocolate desserts.  
Interested in more stories like this? Join Harvie's email list!